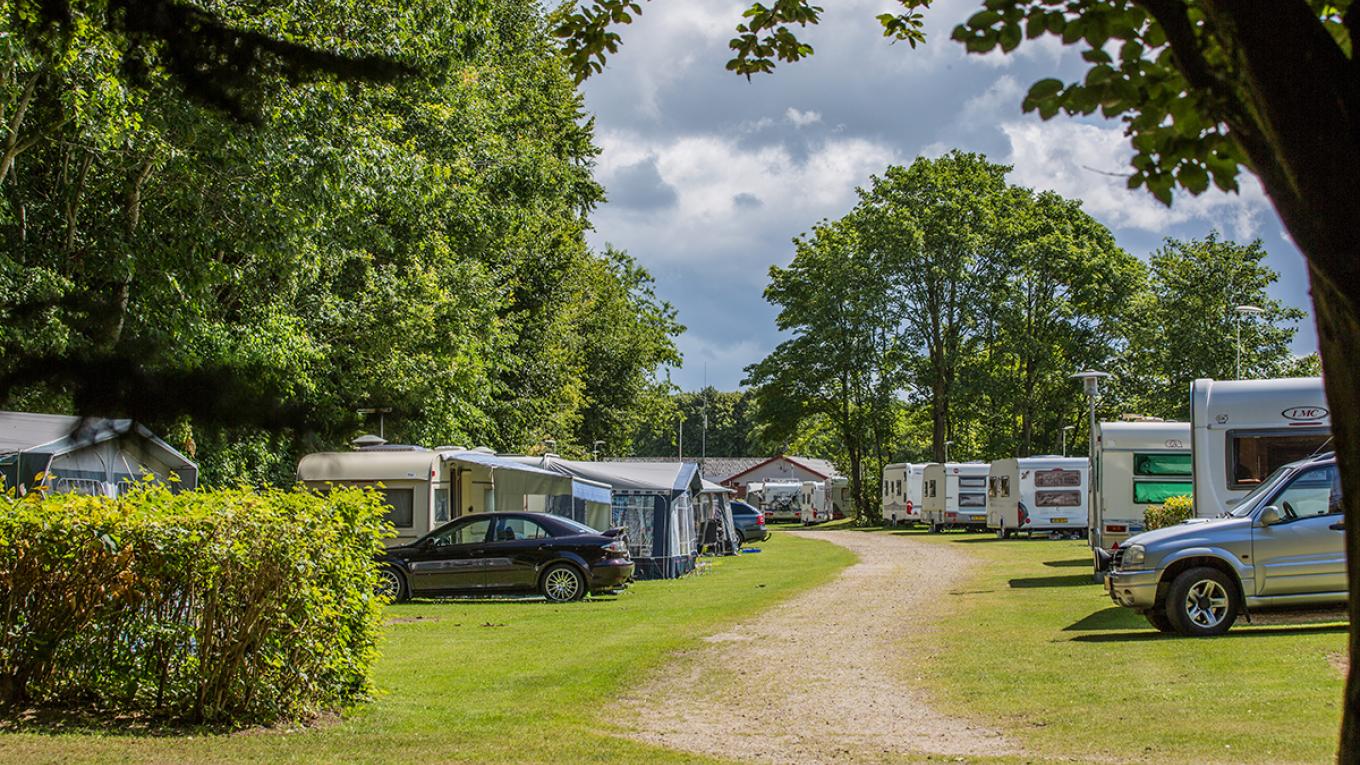 DCU-Camping
DCU-Camping Viborg Sø
Vinkelvej 36 B
8800 Viborg
Denmark
+45 86 67 13 11
viborg@dcu.dk
Reception opening hours
Low season (19.03.21 to 26.06.21 and 22.08.21 to 24.10.21)
Monday-Thursday: 08.00-10.00 and 14.00-16.00
Friday-Saturday: 08.00-12.00 and 14.00-19.00
Sunday: 08.00-12.00 and some Sundays also 14.00-16.00
Danish bank holidays: 08.00-12.00 and 14.00-20.00
High season (27.06.21 to 21.08.21)
Monday-Sunday: 08.00-12.00 and 14.00-21.00
Stay by the lake, within walking distance of Viborg
Next to Sønder Lake, and with Viborg town centre on the opposite side, is the beautiful DCU-Camping Viborg – a small oasis amidst all the greenery. Follow the path along the lake into the city centre, where you can see the magnificent cathedral. Viborg is full of good restaurants and shopping. If you are interested in gardening, you can visit the Forstbotanisk Have botanical garden and Nordisk Park, which is located right next to the campsite. 
Amazing experiences close by
Just 15 minutes away is the impressive limestone mine, Mønsted Kalkgruber. If you drive the other way, you will find the World Map at Klejtrup, where children and adults can walk around the world in no time. 
Lots of activities for the kids
DCU-Camping Viborg Sø has extremely well-maintained facilities and is a very tidy and organised campsite. The children can show off their playful side in the campsite's playground and on the two bouncy castles. There is also mini-golf, a campfire area, beach volleyball court, a moon car track and a lovely jetty on the lake. Lots of activities for adults and children, such as communal dining and fitness bingo, candlestick making, layer cake races and pancake baking. 
Rent a cabin or a caravan
You can rent camping cabins and caravans at DCU-Camping Viborg Sø. If you want to combine a holiday close to the city with outdoorsy experiences, this is a wonderful sanctuary.
Reviews
4.3 404 reviews on Google
Facilities
ø
Discount for DCU members
C
Fenced with bar and supervision
D
Facilities for disabled campers
F
Section for light campers
v
Shop - max distance 1 km
T
Electric point for caravans 220V
K
Electric point for hairdryer
b
Minigolf - max. distance 1 km
p
Golf course - max distance 5 km
j
Angling - max. distance 5 km
I
Showers hot & cold water
J
Nursing room for babies
h
Bathing beach or lake - max. distance 5 km
g
Indoor swim. pool - max. distance 5 km
t
Swimscape - max. distance 1 km
P
Washing up hot/cold water
Q
Laundry - hot/cold water
S
Tumbler/drying room/drying closet
n
Boats for hire - max. distance 1 km
i
Windsurfing - max. distance 5 km
U
Emptying of motor caravan tanks
Facilities
ø
Discount for DCU members
C
Fenced with bar and supervision
D
Facilities for disabled campers
F
Section for light campers
v
Shop - max distance 1 km
T
Electric point for caravans 220V
K
Electric point for hairdryer
b
Minigolf - max. distance 1 km
p
Golf course - max distance 5 km
j
Angling - max. distance 5 km
I
Showers hot & cold water
J
Nursing room for babies
h
Bathing beach or lake - max. distance 5 km
g
Indoor swim. pool - max. distance 5 km
t
Swimscape - max. distance 1 km
P
Washing up hot/cold water
Q
Laundry - hot/cold water
S
Tumbler/drying room/drying closet
n
Boats for hire - max. distance 1 km
i
Windsurfing - max. distance 5 km
U
Emptying of motor caravan tanks
Se de resterende 27 faciliteter >