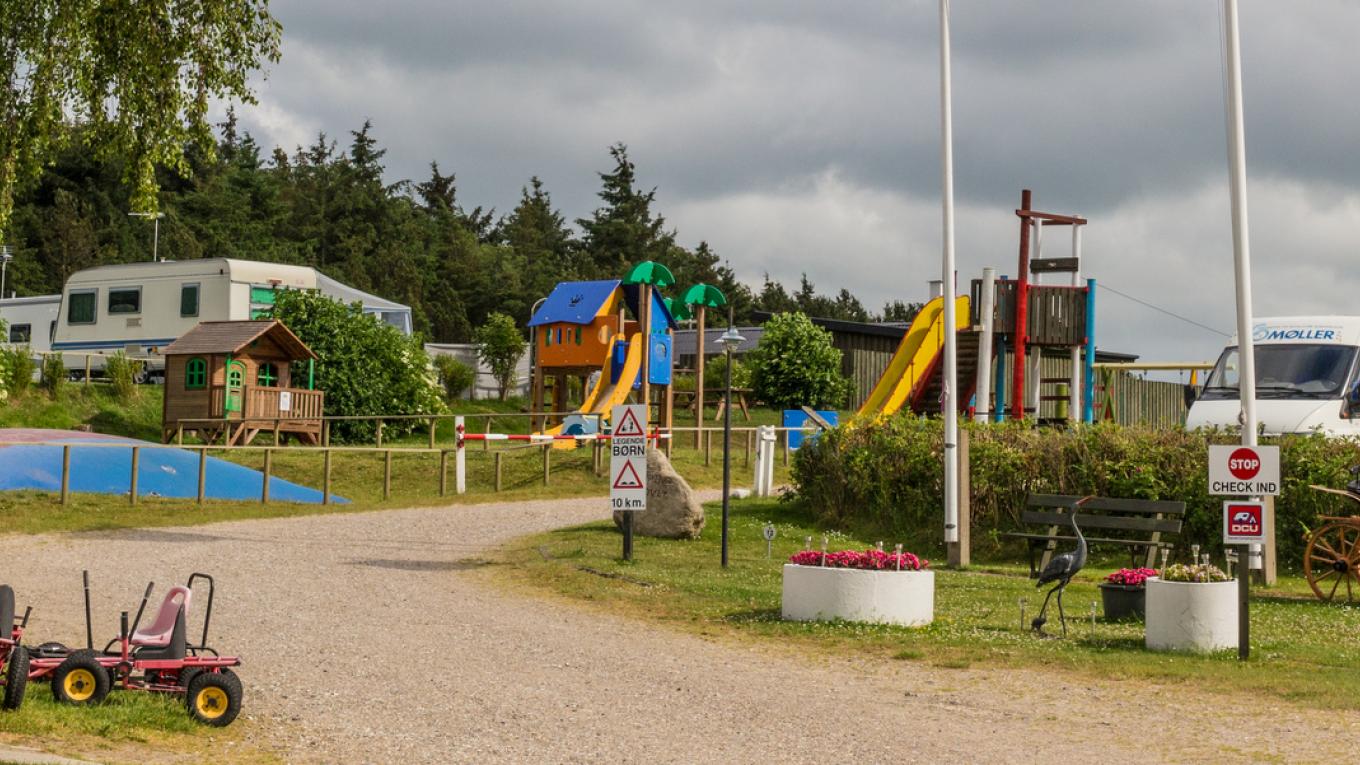 DCU-Camping
DCU-Camping Tranum
Solsortevej 2A
9460 Brovst
Denmark
+45 98 23 54 76
skovly@dcu.dk
Reception opening hours
Low season (19.03.21 to 26.06.21 and 22.08.21 to 24.10.21)
Monday-Thursday: 08.00-10.00 and 14.00-17.00
Friday: 08.00-10.00 and 14.00-19.00
Saturday: 08.00-12.00 and 14.00-19.00
Sunday: 08.00-12.00 and 14.00-16.00

High season (27.06.21 to 21.08.21)
Monday-Sunday: 08.00-21.00
Small campsite and magnificent scenery
If you prefer to stay at a smaller campsite, close to some of the most magnificent nature in the area between Jammerbugt and the Limfjord, then visit DCU-Camping Tranum. And no matter which direction you drive from here, there are plenty of things to see and do: in Hanstholm or Løkken, Blokhus or Bulbjerg with its many birds.
Go exploring in the outdoors
Children of all ages can unwind in the large forest playground at the campsite, or go exploring in what is perhaps Denmark's most pristine forest, Fosdalen. At Langdal Plantage you can walk on marked paths right at the edge of the dunes and enjoy the magnificent view of Jammerbugt. And if you climb Baunehøj, you are already 84 metres above sea level.
See the fishing boats on the beach
At Slettestrand and Torup Strand you can see the fishing boats being pulled directly up to the beach, as has been the case for many hundreds of years. The area offers rugged nature and plenty of unique experiences.
Enjoy an afternoon coffee at the seaside hotel
After just twenty minutes on a bike, you can sit back and enjoy a cup of afternoon coffee and the atmosphere of the nearby Svinkløv Badehotel.
Take the children to Fårup Sommerland amusement park
Only twenty minutes away by car, you will find the popular Fårup Sommerland, where the children probably dream of spending more than just one day. 
Lots of playing opportunities for the kids
At home on the well-maintained campsite, the children can play on the bouncy castle, the zipline, the slide, the climbing frame, the football pitch – and just run around freely without the adults having to worry. The smaller pool is an inviting place for a nice dip.
Enjoy a lovely holiday all year round
Whether you are taking an Easter, summer or autumn holiday, staying at DCU-Camping Tranum has its very own unique charm.
Google rating
4.2 250 reviews på Google
Facilities
ø
Discount for DCU members
C
Fenced with bar and supervision
D
Facilities for disabled campers
F
Section for light campers
v
Shop - max distance 1 km
T
Electric point for caravans 220V
K
Electric point for hairdryer
j
Angling - max. distance 5 km
I
Showers hot & cold water
H
Separate washing cubicles
J
Nursing room for babies
d
Outdoor swim. pool (max 1 km)
P
Washing up hot/cold water
Q
Laundry - hot/cold water
S
Tumbler/drying room/drying closet
i
Windsurfing - max. distance 5 km
U
Emptying of motor caravan tanks
å
Environmentally friendly
Facilities
ø
Discount for DCU members
C
Fenced with bar and supervision
D
Facilities for disabled campers
F
Section for light campers
v
Shop - max distance 1 km
T
Electric point for caravans 220V
K
Electric point for hairdryer
j
Angling - max. distance 5 km
I
Showers hot & cold water
H
Separate washing cubicles
J
Nursing room for babies
d
Outdoor swim. pool (max 1 km)
P
Washing up hot/cold water
Q
Laundry - hot/cold water
S
Tumbler/drying room/drying closet
i
Windsurfing - max. distance 5 km
U
Emptying of motor caravan tanks
å
Environmentally friendly
Se de resterende 28 faciliteter >