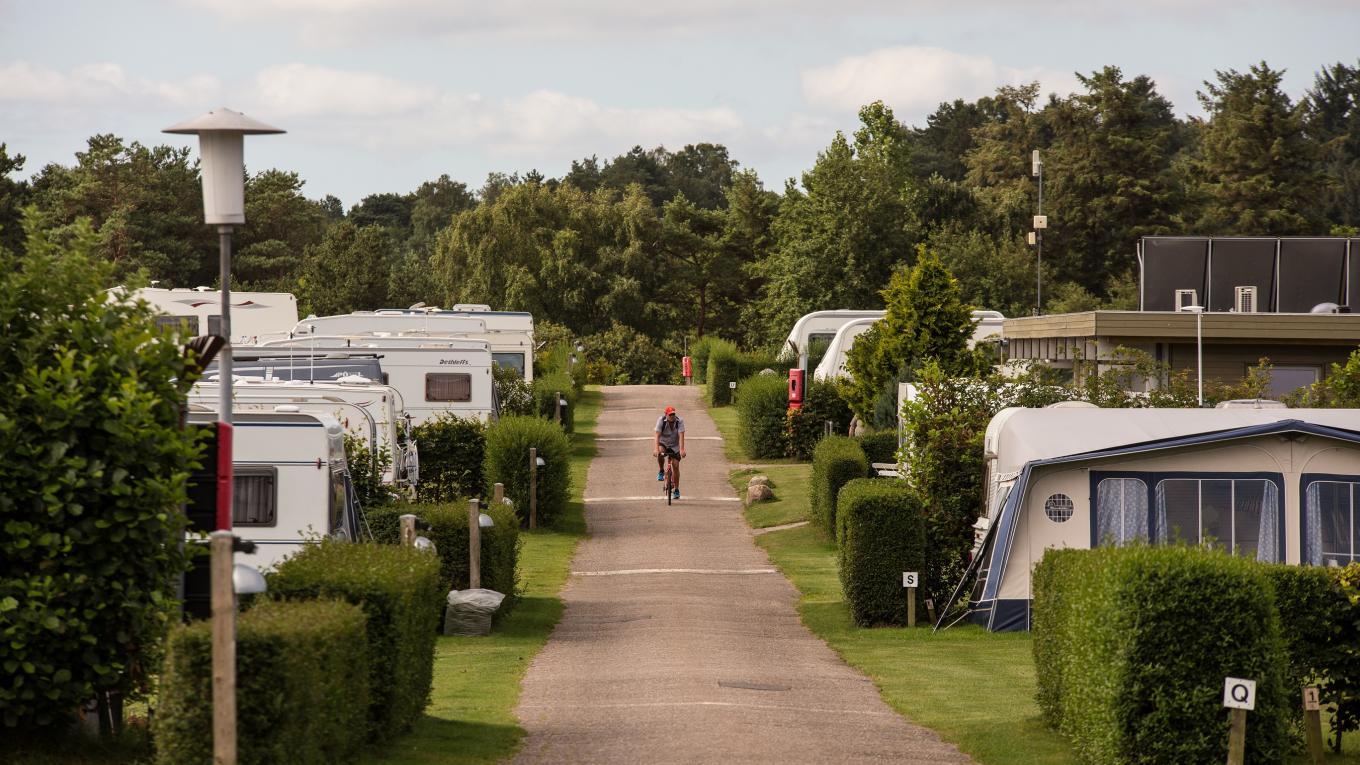 DCU-Camping
DCU-Camping Rågeleje
Hostrupsvej 2
3210 Vejby
Denmark
+45 48 71 56 40
raageleje@dcu.dk
Reception opening hours
Low season (19.03.21 to 26.06.21 and 22.08.21 to 24.10.21)
Monday-Thursday: 08.00-10.00 and 14.00-17.00
Friday: 08.00-10.00 and 14.00-19.00
Saturday: 08.00-12.00 and 14.00-19.00
Sunday: 08.00-12.00 and 14.00-16.00

High season (27.06.21 to 21.08.21)
Monday-Sunday: 08.00-21.00

Winter season (25.10.21 to 18.03.22)
Monday-Thursday: 09.00-11.00
Friday: 09.00-11.00 und 17.00-19.00
Saturday and Sunday: 09.00-11.00
Unique location and nature
DCU-Camping Rågeleje has a unique location right next to the romantic and protected Heatherhill area, which evokes thoughts of the Scottish Highlands with its soft, windswept hills and grazing sheep.
Near the beach, quaint towns and beautiful castles
At the same time, you're just a few minutes from a lovely beach and about half an hour's drive from charming cities such as Helsingør and Hillerød – and some of North Zealand's most popular attractions, such as Kronborg Castle, Fredensborg Castle and not least Frederiksborg Castle.
Visit Tisvilde and take a walk in the plantation area
If you're in search of an ice cream or want to swim from another lovely beach, then cycle or drive to the neighbouring town of Tisvildeleje, which is buzzing with life all summer long. The beach here is beautiful to walk on all year round, and the same goes for the magnificent Tisvilde Hegn, with its crooked trees and secret places where chanterelle mushrooms grow in the autumn.
Lots of activities for all ages
There's plenty of fun to be had for all ages at DCU-Camping Rågeleje. Throughout the season there are group activities on the large covered terrace, where there's also a barbecue you can use. Come and join us for market day, fire drills for the children and campfire bread baking. Let the children loose on the playgrounds, the zipline, the football pitch and the bouncy castles, or play a game of outdoor table tennis, table football or giant chess. The campsite is surrounded by hills that are ideal for kite flying.
Rent a cabin
Rent a cabin on the campsite and spend a cosy weekend or holiday week away from it all. The area isn't called Kongernes Nordsjælland for nothing (Royal North Zealand) – and at DCU-Camping Rågeleje you'll have a holiday fit for a king and queen.
Reviews
4.2 295 reviews on Google
Facilities
ø
Discount for DCU members
C
Fenced with bar and supervision
D
Facilities for disabled campers
F
Section for light campers
x
Restaurant - Max. distance 1 km
T
Electric point for caravans 220V
K
Electric point for hairdryer
j
Angling - max. distance 5 km
I
Showers hot & cold water
H
Separate washing cubicles
J
Nursing room for babies
h
Bathing beach or lake - max. distance 5 km
g
Indoor swim. pool - max. distance 5 km
P
Washing up hot/cold water
Q
Laundry - hot/cold water
S
Tumbler/drying room/drying closet
n
Boats for hire - max. distance 1 km
i
Windsurfing - max. distance 5 km
U
Emptying of motor caravan tanks
Facilities
ø
Discount for DCU members
C
Fenced with bar and supervision
D
Facilities for disabled campers
F
Section for light campers
x
Restaurant - Max. distance 1 km
T
Electric point for caravans 220V
K
Electric point for hairdryer
j
Angling - max. distance 5 km
I
Showers hot & cold water
H
Separate washing cubicles
J
Nursing room for babies
h
Bathing beach or lake - max. distance 5 km
g
Indoor swim. pool - max. distance 5 km
P
Washing up hot/cold water
Q
Laundry - hot/cold water
S
Tumbler/drying room/drying closet
n
Boats for hire - max. distance 1 km
i
Windsurfing - max. distance 5 km
U
Emptying of motor caravan tanks
Se de resterende 26 faciliteter >