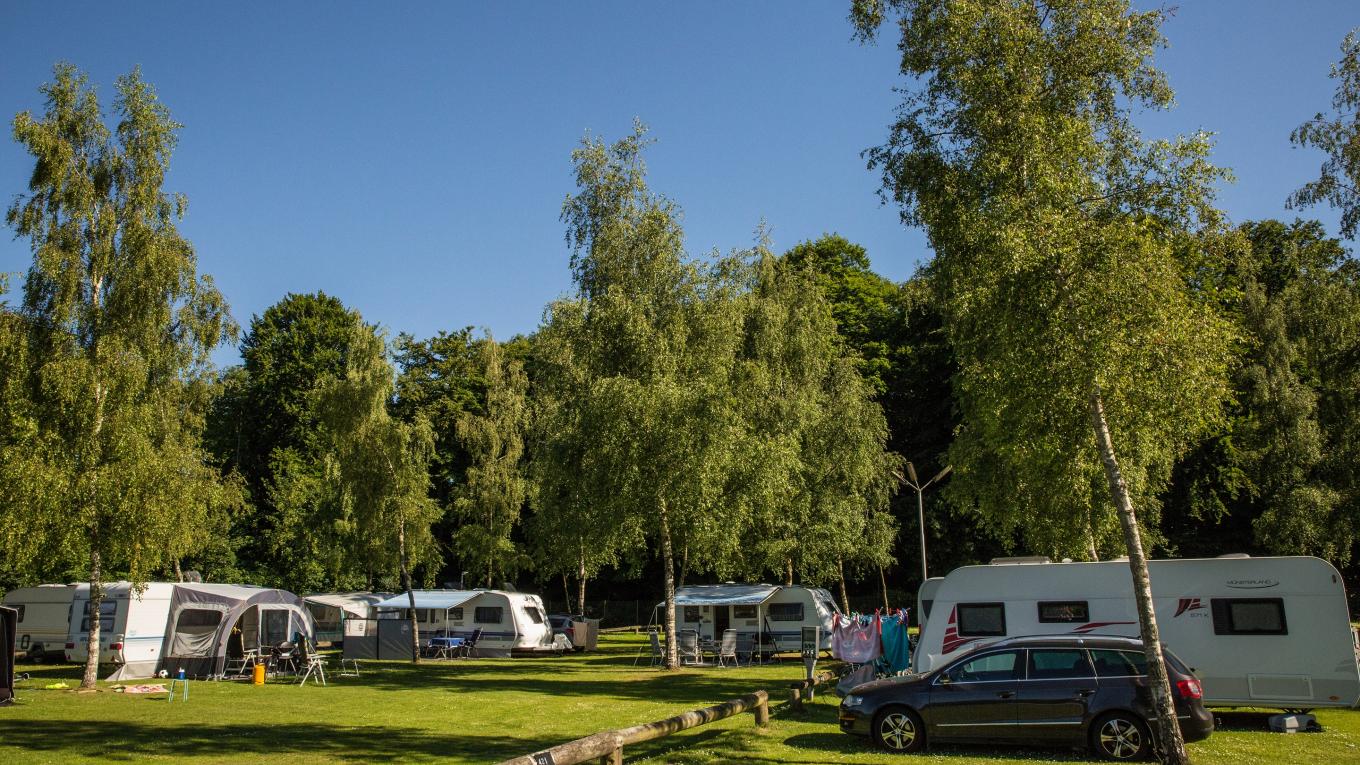 DCU-Camping
DCU-Camping Odense
Odensevej 102
5260 Odense S
Denmark
+45 66 11 47 02
odense@dcu.dk
Reception opening hours
Low season (19.03.21 to 26.06.21 and 22.08.21 to 24.10.21)
Monday-Thursday: 08.00-17.00
Friday: 08.00-19.00
Saturday: 08.00-19.00
Sunday: 08.00-16.00

High season (27.06.21 to 21.08.21)
Monday-Sunday: 08.00-21.00

Winter season (25.10.21 to 18.03.22)
Monday-Thursday: 09.00-11.00 and 15.00-17-00
Friday: 09.00-11.00 und 17.00-19.00
Saturday and Sunday: 09.00-11.00
Enjoy both nature and culture
DCU-Camping Odense is located in scenic surroundings and just four km from Odense city centre. It's a quiet and tranquil campsite, close to Skovsøen lake in Fruens Bøge and the beautiful Munke Mose area. Here you can enjoy nature and cultural life, concerts, and other events in Odense. 
Have a fairytale experience in Odense
Odense prides itself on being a very child-friendly city, where you can trace Hans Christian Andersen's footsteps, spend the day at the big and exciting Odense Zoo, have fun at the harbour and do some culinary exploration at Storms Pakhus, which is Odense's street food market. If the weather is good, pack a picnic and hop on an Odense River boat cruise.
Visit the new Camping Outdoor Museum
And you won't want to miss the adventure at the new Camping Outdoor Museum near Egeskov, which is just half an hour away by car.
Fun activities for kids and plenty of community
At DCU-Camping Odense, children can use their imaginations playing in the amazing mini-town, or burn off energy on the bouncy castles, the playground and the football pitch. Let the sun set on a cosy day at the campfire site, where there are often group events.
Rent a cabin
If you're in Odense for a long weekend, a concert or event, why not rent one of the lovely cabins at the campsite?
Reviews
4.3 857 reviews on Google
Facilities
ø
Discount for DCU members
C
Fenced with bar and supervision
D
Facilities for disabled campers
F
Section for light campers
v
Shop - max distance 1 km
x
Restaurant - Max. distance 1 km
T
Electric point for caravans 220V
K
Electric point for hairdryer
b
Minigolf - max. distance 1 km
p
Golf course - max distance 5 km
j
Angling - max. distance 5 km
I
Showers hot & cold water
H
Separate washing cubicles
J
Nursing room for babies
d
Outdoor swim. pool (max 1 km)
e
Outdoor swim. pool - heated
g
Indoor swim. pool - max. distance 5 km
P
Washing up hot/cold water
Q
Laundry - hot/cold water
S
Tumbler/drying room/drying closet
m
Rent a bike - max. distance 1 km
U
Emptying of motor caravan tanks
Facilities
ø
Discount for DCU members
C
Fenced with bar and supervision
D
Facilities for disabled campers
F
Section for light campers
v
Shop - max distance 1 km
x
Restaurant - Max. distance 1 km
T
Electric point for caravans 220V
K
Electric point for hairdryer
b
Minigolf - max. distance 1 km
p
Golf course - max distance 5 km
j
Angling - max. distance 5 km
I
Showers hot & cold water
H
Separate washing cubicles
J
Nursing room for babies
d
Outdoor swim. pool (max 1 km)
e
Outdoor swim. pool - heated
g
Indoor swim. pool - max. distance 5 km
P
Washing up hot/cold water
Q
Laundry - hot/cold water
S
Tumbler/drying room/drying closet
m
Rent a bike - max. distance 1 km
U
Emptying of motor caravan tanks
Se de resterende 33 faciliteter >