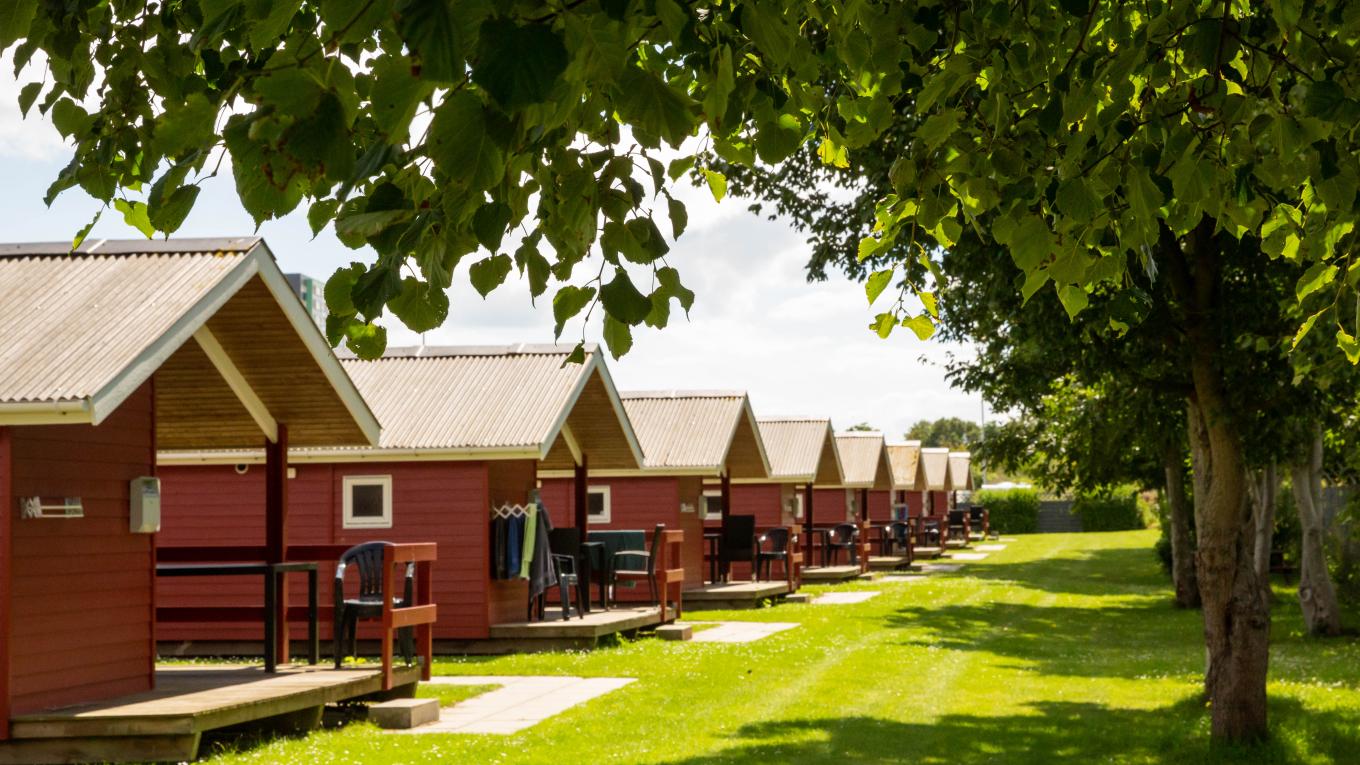 DCU-Camping
DCU-Camping København - Absalon
Korsdalsvej 132
2610 Rødovre
Denmark
+45 36 41 06 00
copenhagen@dcu.dk
DCU-Camping København - Absalon
Reception opening hours
Low season (19.03.21 to 26.06.21 and 22.08.21 to 24.10.21)
Sunday-Thursday: 08.00-17.00
Friday: 08.00-19.00
Saturday: 08.00-19.00

High season (27.06.21 to 21.08.21)
Monday-Sunday: 08.00-21.00

Winter season (25.10.21 to 18.03.22)
Monday-Thursday: 09.00-11.00 and 15.00-17.00
Friday: 09.00-11.00 und 17.00-19.00
Saturday and Sunday: 09.00-11.00
Enjoy a city break in beautiful surroundings
At DCU-Camping Copenhagen – Absalon, you get a city break and green surroundings all in one. The campsite itself is located just eight kilometres from Copenhagen's City Hall Square, right by Vestvolden and a large forest area.
Leave the car at the campsite
Leave the car at the campsite and take the bus or S-train into Copenhagen – you'll save time and money on finding parking in the city.
Explore the campsite's green surroundings
There is direct access from DCU-Camping Copenhagen – Absalon to the old Vestvolden rampart complex, which was once the gateway to Copenhagen itself. Vestvolden is a large, beautiful nature area that's ideal for walks all year round. 
Discover Copenhagen and all its attractions
Copenhagen and Frederiksberg are within easy reach of Tivoli, the museums, theatres, restaurants, cafés, shops, the inner harbour, and everything else the city has to offer. A canal tour is a charming way to get a good overview of the city, offering the chance to get on and off and enjoy a packed lunch on board.
Lots of activities for children
There is also lots for playful kids to experience at home on the campsite. They can find new friends in the mini-town, burn off energy on the bouncy castle and in the play tower, play a game of giant chess, and much more. And maybe even get their parents to buy them an ice cream from the kiosk.
Rent a cabin
At DCU-Camping Copenhagen – Absalon you'll also find Denmark's largest cabin town with modern, well-appointed cabins in a range of sizes. 
Reviews
4.1 1138 reviews on Google
Facilities
ø
Discount for DCU members
C
Fenced with bar and supervision
D
Facilities for disabled campers
F
Section for light campers
v
Shop - max distance 1 km
w
Cafeteria - max. distance 1 km
x
Restaurant - Max. distance 1 km
T
Electric point for caravans 220V
K
Electric point for hairdryer
a
Tennis court - max. distance 1 km
p
Golf course - max distance 5 km
I
Showers hot & cold water
H
Separate washing cubicles
J
Nursing room for babies
h
Bathing beach or lake - max. distance 5 km
P
Washing up hot/cold water
Q
Laundry - hot/cold water
S
Tumbler/drying room/drying closet
m
Rent a bike - max. distance 1 km
U
Emptying of motor caravan tanks
Facilities
ø
Discount for DCU members
C
Fenced with bar and supervision
D
Facilities for disabled campers
F
Section for light campers
v
Shop - max distance 1 km
w
Cafeteria - max. distance 1 km
x
Restaurant - Max. distance 1 km
T
Electric point for caravans 220V
K
Electric point for hairdryer
a
Tennis court - max. distance 1 km
p
Golf course - max distance 5 km
I
Showers hot & cold water
H
Separate washing cubicles
J
Nursing room for babies
h
Bathing beach or lake - max. distance 5 km
P
Washing up hot/cold water
Q
Laundry - hot/cold water
S
Tumbler/drying room/drying closet
m
Rent a bike - max. distance 1 km
U
Emptying of motor caravan tanks
Se de resterende 28 faciliteter >