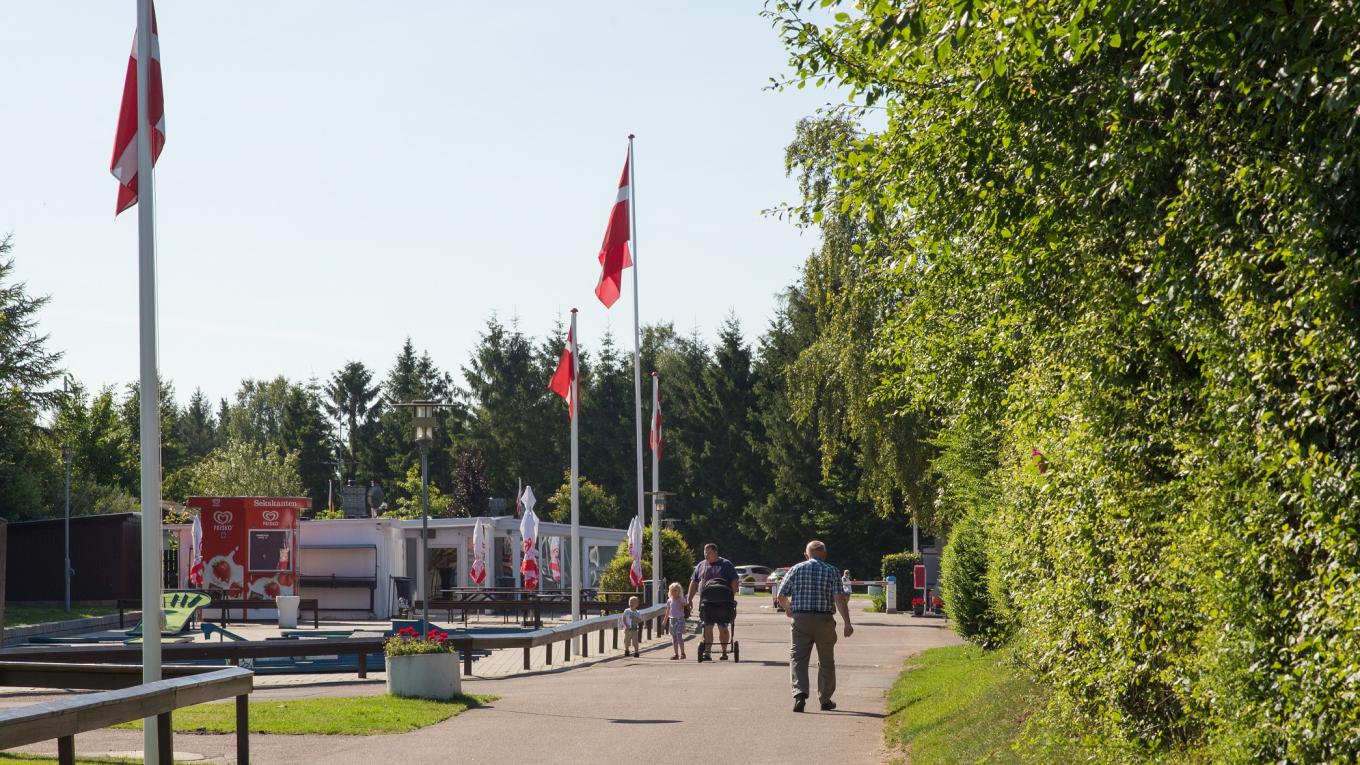 DCU-Camping
DCU-Camping Hesselhus
Moselundvej 30
8600 Silkeborg
Denmark
+45 86 86 50 66
hesselhus@dcu.dk
Reception opening hours
Low season (19.03.21 to 26.06.21 and 22.08.21 to 24.10.21)
Monday-Thursday: 08.00-10.00 and 14.00-17.00
Friday: 08.00-10.00 and 14.00-19.00
Saturday: 08.00-12.00 and 14.00-19.00
Sunday: 08.00-12.00 and 14.00-16.00

High season (27.06.21 to 21.08.21)
Monday-Sunday: 08.00-21.00

Winter season (25.10.21 to 18.03.22)
Monday-Thursday: 09.00-11.00
Friday: 09.00-11.00 und 17.00-19.00
Saturday and Sunday: 09.00-11.00
Stay in the heart of nature
DCU-Camping Hesselhus is located in the middle of a lush natural area, surrounded by forest and within walking distance of the recreated Bølling Lake. There are excellent marked hiking and cycling trails close to the campsite. If your family likes peace and quiet in green surroundings, you can combine that with fun activities for the children at the campsite in the summer. The family's four-legged friend can have fun in the dog forest.
Take a trip to Silkeborg
The Tollund Man, who was found near Bølling Lake, and who is the world's best preserved bog body, can now be visited at Museum Silkeborg, which is a ten-minute drive from DCU-Camping Hesselhus. In Silkeborg you can also visit the interesting Museum Jorn, AQUA Aquarium & Animal Park, and explore the quaint market town. You can also enjoy a picnic on the banks of the Gudenå river and watch the world go by. 
Visit Legoland and Givskud Zoo
Taking the family on a day trip? Legoland and Givskud Zoo are fairly close by – just a 30-minute drive away. 
Fun for all ages at the campsite
Children can run wild in the big pool with a water slide and in the campsite's playground. Do the shopping for a cosy evening in the large mini market, or meet new people in the communal dining area. At DCU-Camping Hesselhus you will find a little of everything: Picturesque nature in wide-open spaces, unique cultural offerings nearby and lots of fun activities for all ages.
Google rating
4.1 359 reviews på Google
Facilities
ø
Discount for DCU members
C
Fenced with bar and supervision
D
Facilities for disabled campers
F
Section for light campers
v
Shop - max distance 1 km
w
Cafeteria - max. distance 1 km
T
Electric point for caravans 220V
K
Electric point for hairdryer
b
Minigolf - max. distance 1 km
p
Golf course - max distance 5 km
j
Angling - max. distance 5 km
I
Showers hot & cold water
H
Separate washing cubicles
J
Nursing room for babies
t
Swimscape - max. distance 1 km
P
Washing up hot/cold water
Q
Laundry - hot/cold water
S
Tumbler/drying room/drying closet
m
Rent a bike - max. distance 1 km
U
Emptying of motor caravan tanks