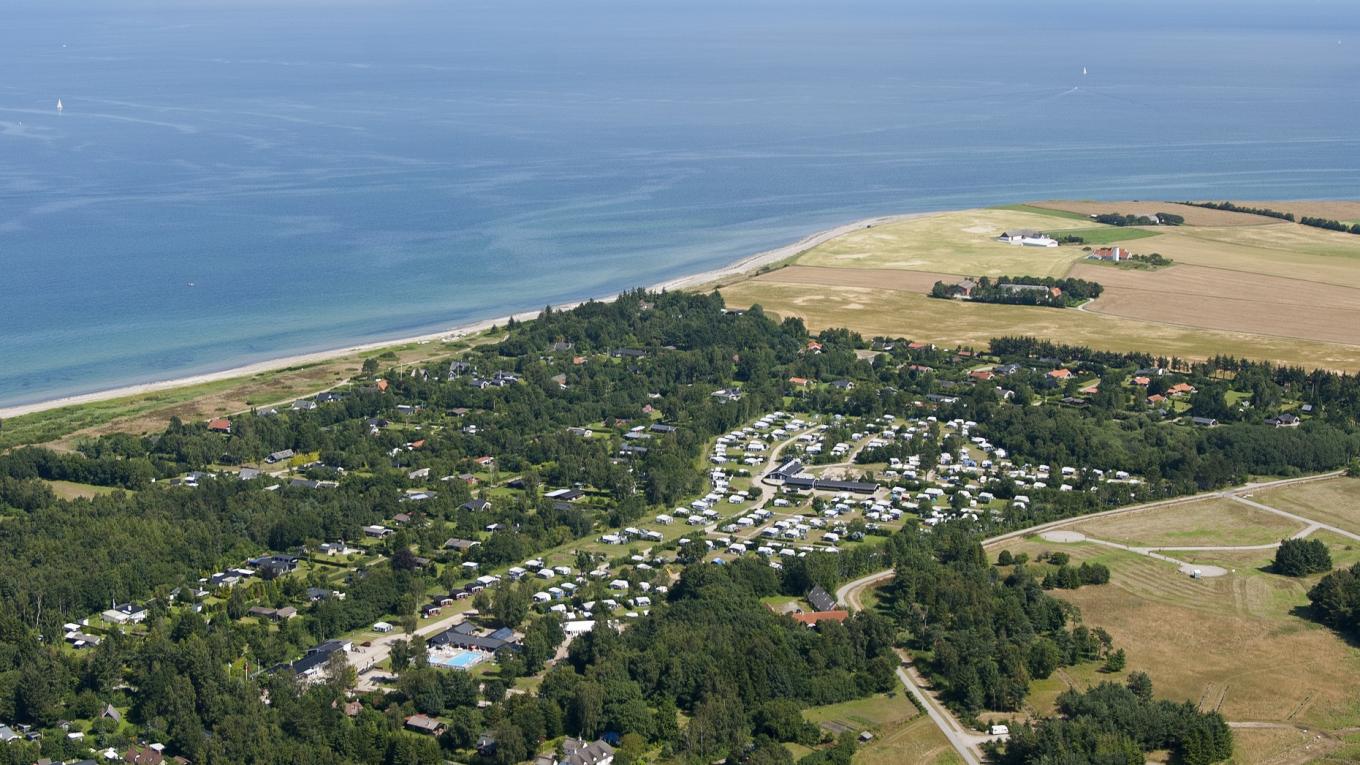 DCU-Camping
DCU-Camping Gjerrild Strand
Langholmvej 26
8500 Grenå
Denmark
+45 86 38 42 00
gjerrild@dcu.dk
DCU-Camping Gjerrild Strand
Reception opening hours
Low season (19.03.21 to 26.06.21 and 22.08.21 to 24.10.21)
Monday-Thursday: 08.00-10.00 and 14.00-17.00
Friday: 08.00-10.00 and 14.00-19.00
Saturday: 08.00-12.00 and 14.00-19.00
Sunday: 08.00-12.00 and 14.00-16.00

High season (27.06.21 to 21.08.21)
Monday-Sunday: 08.00-21.00
Stay near the forest and the beach
DCU-Camping Gjerrild Strand is located at the top of Djursland, just a few hundred metres from some of the area's most picturesque fine-grained sandy beaches, which are popular with anglers, paddleboarders and kayakers alike. A few kilometres from the campsite is Emmedsbo Skov, a forest where you might be fortunate enough to see deer and roe deer somewhere secluded.
Buy ice cream and fish at Bønnerup harbour
Not far away you'll find the scenic harbour at Bønnerup, where children can have huge ice cream waffles and adults can browse the wide selection of fresh fish and delicacies at the fishmongers.
Enjoy an active holiday
If you're into cycling or hiking, there are plenty of options in the scenic and hilly terrain around Gjerrild, and you can rent bikes at the campsite.
Amazing animal experiences
Set course for Grenå, which is just 13 km away, visit the Kattegatcenter at the harbour and explore Grenå city centre. It only takes just over twenty minutes to drive from the campsite to Djurs Sommerland, so make a big packed lunch, rent a pull wagon on site and enjoy a day with the family at the popular amusement park. Just a little further away are the Skandinavisk Dyrepark wildlife park and Ree Park Safari, which offer amazing animal experiences for all ages. 
Pool and plenty of options for the kids
There is also lots to do at the campsite at DCU-Camping Gjerrild Strand: The swimming pool is the big attraction here, along with the well-equipped playground with its trampolines, bouncy castle, moon car track, climbing towers and zipline. The children can also burn off energy on the football pitch, during a game of beach volleyball or mini-golf. During the season, lots of activities are arranged for children, some of them around the inviting campfire area where you can also have a barbecue and lots of fun.
Rent a great cabin
Bring your own caravan, motorhome or tent, or rent one of the many types of cabin at the campsite. You can buy bread rolls and other treats at the kiosk in the square.
Reviews
4.4 425 reviews on Google
Facilities
ø
Discount for DCU members
C
Fenced with bar and supervision
D
Facilities for disabled campers
F
Section for light campers
v
Shop - max distance 1 km
T
Electric point for caravans 220V
K
Electric point for hairdryer
b
Minigolf - max. distance 1 km
a
Tennis court - max. distance 1 km
j
Angling - max. distance 5 km
I
Showers hot & cold water
J
Nursing room for babies
h
Bathing beach or lake - max. distance 5 km
d
Outdoor swim. pool (max 1 km)
P
Washing up hot/cold water
Q
Laundry - hot/cold water
S
Tumbler/drying room/drying closet
m
Rent a bike - max. distance 1 km
i
Windsurfing - max. distance 5 km
U
Emptying of motor caravan tanks
Facilities
ø
Discount for DCU members
C
Fenced with bar and supervision
D
Facilities for disabled campers
F
Section for light campers
v
Shop - max distance 1 km
T
Electric point for caravans 220V
K
Electric point for hairdryer
b
Minigolf - max. distance 1 km
a
Tennis court - max. distance 1 km
j
Angling - max. distance 5 km
I
Showers hot & cold water
J
Nursing room for babies
h
Bathing beach or lake - max. distance 5 km
d
Outdoor swim. pool (max 1 km)
P
Washing up hot/cold water
Q
Laundry - hot/cold water
S
Tumbler/drying room/drying closet
m
Rent a bike - max. distance 1 km
i
Windsurfing - max. distance 5 km
U
Emptying of motor caravan tanks
Se de resterende 28 faciliteter >