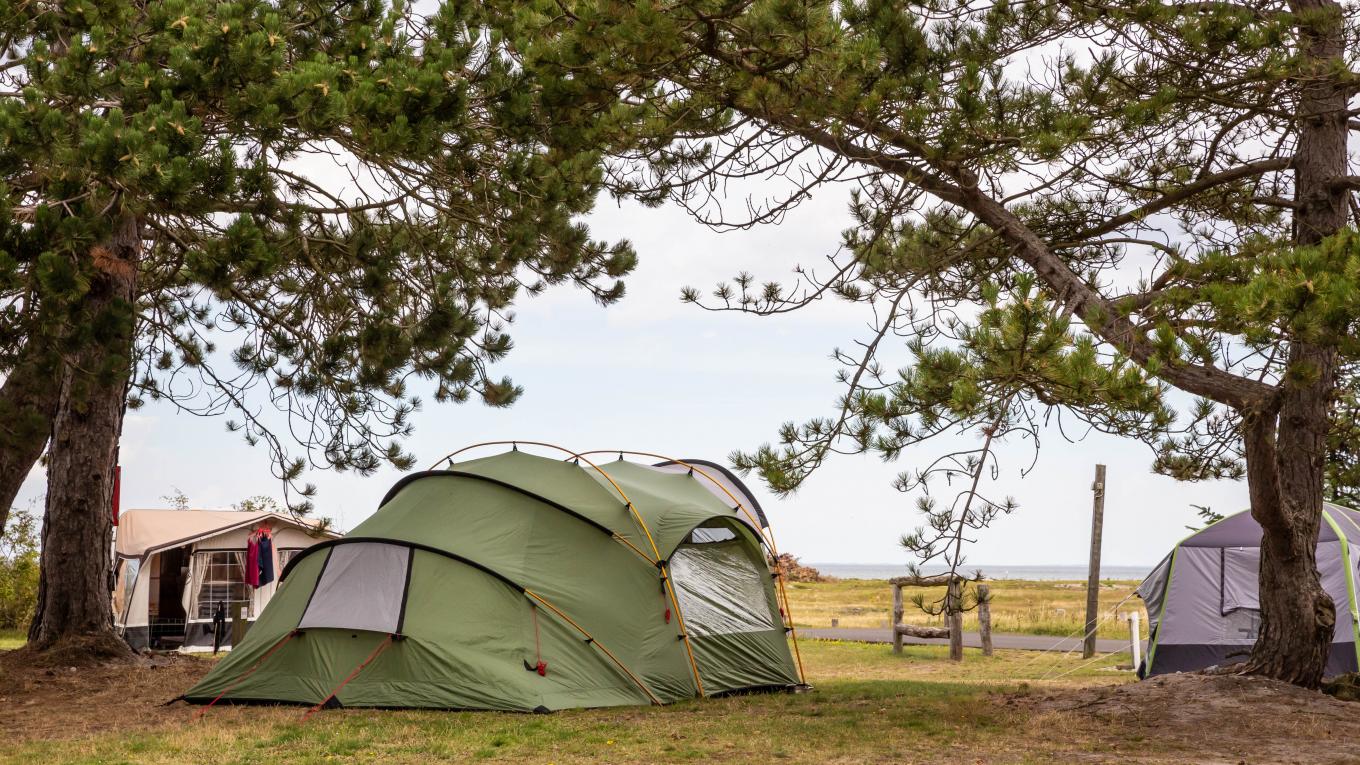 DCU-Camping
DCU-Camping Åbyskov Strand
Skårupøre Strandvej 74
5881 Skårup
Denmark
+45 62 23 13 20
aabyskov@dcu.dk
DCU-Camping Åbyskov Strand
Reception opening hours
Low season (19.03.21 to 26.06.21 and 22.08.21 to 24.10.21)
Monday-Thursday: 08.00-10.00 and 14.00-17.00
Friday: 08.00-10.00 and 14.00-19.00
Saturday: 08.00-12.00 and 14.00-19.00
Sunday: 08.00-12.00 and 14.00-16.00

High season (27.06.21 to 21.08.21)
Monday-Sunday: 08.00-21.00
Enjoy the view of the South Funen archipelago
With a view of the water and Langeland as your backdrop, you'll be sure to enjoy your holiday at DCU-Camping Åbyskov Strand. The site is landscaped so that you have a view of the water from almost everywhere on the campsite. This is true South-Funen idyll, where the first thing you see is a reception building with a charming thatched roof. 
Visit Egeskov and the new Camping Outdoor Museum
The South Funen area is known for its many beautiful manor houses, including Egeskov and the new Camping Outdoor Museum, which is opening this year. Valdemar Castle in Tåsinge is also worth a visit.
Head for beautiful Svendborg
From vibrant Svendborg, which is only a 15-minute drive away, you can go on a day trip on the ferries in the beautiful South Funen archipelago. Buy goodies to take home to the campsite at the market in Svendborg, or explore the charming shops.
Enjoy the many possibilities in the nearby water
Thanks to its location right on the coast, there are plenty of opportunities for activities both in and around the water, and for having fun and playing at DCU-Camping Åbyskov Strand – both for children and adults. There are excellent facilities for anyone who enjoys fishing from the beach or from their own dinghy. Swim in clear waters from the bathing jetty and enjoy the evening around the campfire with the sea in the background.
Come and live life by the water
Shop for breakfast and snacks at the Mini Market. You can also rent mobile homes or simple cabins. 
If you have high expectations for fun, an atmospheric environment and beautiful nature in the South Funen archipelago, then your expectations will be met at DCU-Camping Åbyskov Strand.
Reviews
4.2 340 reviews on Google
Facilities
ø
Discount for DCU members
C
Fenced with bar and supervision
F
Section for light campers
v
Shop - max distance 1 km
T
Electric point for caravans 220V
K
Electric point for hairdryer
j
Angling - max. distance 5 km
I
Showers hot & cold water
J
Nursing room for babies
h
Bathing beach or lake - max. distance 5 km
P
Washing up hot/cold water
Q
Laundry - hot/cold water
S
Tumbler/drying room/drying closet
i
Windsurfing - max. distance 5 km
U
Emptying of motor caravan tanks
Facilities
ø
Discount for DCU members
C
Fenced with bar and supervision
F
Section for light campers
v
Shop - max distance 1 km
T
Electric point for caravans 220V
K
Electric point for hairdryer
j
Angling - max. distance 5 km
I
Showers hot & cold water
J
Nursing room for babies
h
Bathing beach or lake - max. distance 5 km
P
Washing up hot/cold water
Q
Laundry - hot/cold water
S
Tumbler/drying room/drying closet
i
Windsurfing - max. distance 5 km
U
Emptying of motor caravan tanks
Se de resterende 23 faciliteter >